The LeClasp™
Safety
Key Holder
can be used to ENCOURAGE DRIVERS TO CONDUCT PRE-TRIP VEHICLE INSPECTIONS.
Circle-Check and Proper Pre-Trip Inspections are an

integral part of safety preventative measures in the transportation industry and yet, often incomplete, shortened, over looked or worse forgotten.

The proper pre-trip inspection consists of a walk around a single or combination vehicle visually inspecting various equipment items listed on a checklist, in which the driver looks for broken wires, loose bolts, cracks in metal, lights that do not work, flat tires or other damage which could affect the safe operation of the single or combination vehicle.

Having a daily reminder to perform these checks can only be a step in the right direction.
As a responsible employer you can emphasize the responsibility of a driver to ensure his vehicle is safe.
Our solution?
We recommend transportation and fleet safety professionals

handout our

L

eClasp™ Key Holder and Personal Safety

Device to

drivers

i

mprinted

with a

"SAFETY FIRST" Circle-Check Inspection message predominantly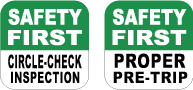 display on the front.

Drivers of semi-trailers, school/commercial buses, tractors, lift trucks, etc.

will

utilize

L

eClasp™

every single day,

SEE

the safety

message on average

16

times per day and be

REMINDED

5840 per year (365*16).

Now... multiply the yearly measurement by our recommended replacement time of 3+ years.

We believe the most significant impact will occur when

children, a spouse, friends, sports teammates, co-workers, etc.

workers

asked questions about the

what's/who's/where's/when's/why's

SAFETY FIRST

message

displayed on the

L

eClasp™

. In a relaxed setting, workplace

safety

(and HOME) will be discussed with

Yes... the

LeClasp™

can be an effective tool

for

fleet safety

supervisors

to get daily safety reminders across

.

Checkout our in-stock LeClasp Safety First Branded Items.