GENERAL RULES

BARROW COUNTY CHEERLEADING

1. AGE REQUIREMENTS

- All cheerleaders must be cheering for the proper grade level. In the event a cheerleader signs up for the incorrect grade level, BCCA will take action to place the child in the correct squad and disciplinary action may be taken. This is a rule of the Barrow Football League and BCCA will enforce all such rules.

2. ATTENDANCE PRACTICE AND GAME - Attendance of practices is mandatory for each cheerleader (i.e. Halloween). Practice time is when new cheers, chants, dance routines; hand motions, jumps, stunts and friendships are formed. Information is also passed out during practice time. If you must miss practice, please give your coach a courtesy phone call. Please remember, birthday parties, going to the mall, movies, sleepovers, competition cheering, other sports activities i.e. swimming,, gymnastics, soccer or any extra curricular activity that conflicts with cheerleading will not be tolerated. These are all optional activities and not an excused absence. Unexcused absences will result in coming to the next game dressed out but sitting that game out.

3. DRESS CODE - Appropriate attire is required fr

om both cheerleaders and squad leaders. Practice attire (this inclu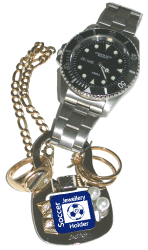 des pom-poms) should be suitable for the weather and also practicing activities. Shirts and shorts/pants should meet at the waist. The wearing of just sports bras without a shirt is not allowed. Athletic shoes should be worn to avoid injury.
NO JEWELRY OF ANY TYPE MAY BE WORN DURING PRACTICE , GAMES OR CHEER-OFF COMPETITION.
This includes: earrings, bracelets, necklaces, anklets, watches, body piercing or rings. If a child arrives wearing jewelry, she will be asked to leave the cheer line to remove the jewelry and leave it with a parent. Coaches are not responsible for jewelry.

►

Our Solution - Sports: LeClasp Sports Jewellery Holder for Athletes

If your child wears a
Medical Alert bracelet
, it must be taped securely to the body. No acrylic nails or fingernail polish is allowed during practice, pep rallies or games. Game attire includes: skirt, shell, body liner, cheerleading socks, cheerleading shoes, bloomers, pom-poms and wind suit. Please do not wear cheerleading shoes anywhere except to games. You may wear your cheerleading uniform to school on spirit day, but please do not wear your cheerleading shoes. Cheerleaders are expected to have their pom-poms at every practice and game. A child without her pom-poms will not be allowed to cheer if the squad is using them. It is reasonable for a coach to ask for cheerleaders to purchase simple items such as tights, pantyhose or gloves. However, it is not reasonable to expect parents to buy expensive jackets, turtlenecks, etc.
---
Return to
[
Sports Safety Headlines
]
[
Workplace Safety Headlines
]